Honey Ross (The Body Protest) and Becky Young (Anti Diet Riot Club) return to Flixwatcher to review Honey's choice The Two Popes.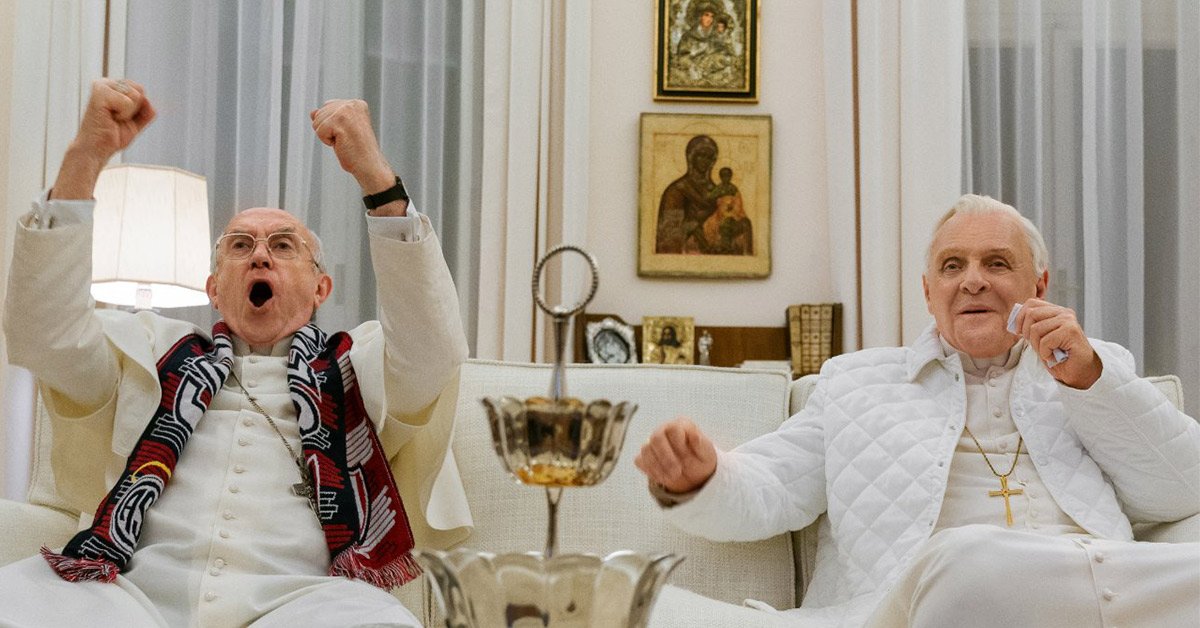 The Two Popes is a 2019 biographical drama starring Anthony Hopkins as Pope Benedict XVI and Jonathan Pryce as Pope Francis. It follows the period after 2005 and the Vatican scandals - with Argentinean football. The Two Popes is the ultimate film for the pope fan but offers very much little else. Hopkins and Pryce do a good job with their impersonations and you can genuinely imagine them hanging out together. Where this semi-biographical and part fictionalisation meet is when the film fails to tackle the controversies and child abuse scandals that have plagued the news as you'd expect. Worse it ignores the issue rather than beginning to offer an apology.
Scores
[supsystic-tables id=167] The Two Popes unsurprisingly scores quite low score apart from the small screen score - it feels quite TV like in its approach but lacks in a real story. The Two Popes scores overall 3.08 - bumped up by its high small screen score. What do you guys think? Have you seen The Two Popes? What did you think? Please let us know in the comments below!
Episode #160 Crew Links
Thanks to the Episode #160 Crew of Honey Ross(@PinkProtest) from, The Body Protest and Becky Young(@AntiDietRiot) from, Anti Diet Riot Club. Find their Websites online at https://www.instagram.com/pinkprotest/?igshid=1vykquyc9z896 and at https://linktr.ee/antidietriotclub Please make sure you give them some love
More about The Two Popes
For more info on The Two Popes, you can visit The Two Popes IMDb page here or The Two Popes Rotten Tomatoes page here.
Final Plug! Subscribe, Share and Review us on iTunes
If you enjoyed this episode of Flixwatcher Podcast you probably know other people who will like it too! Please share it with your friends and family, review us, and join us across ALL of the Social Media links below.