James King from Radio 2 and Ben Travis from Empire Magazine join Flixwatcher remotely to review James's choice Twilight.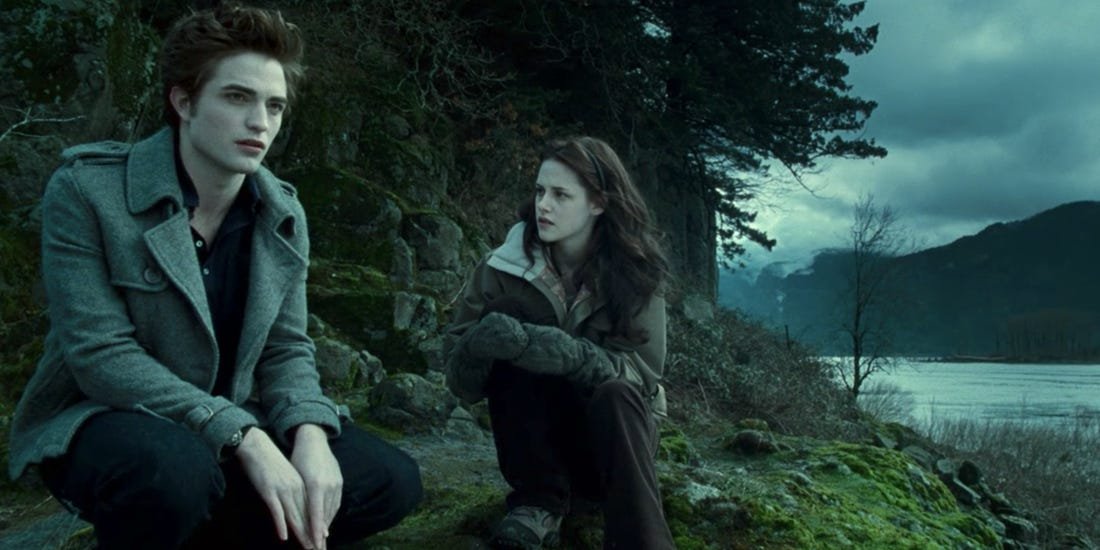 Twilight (2008) is the first film in the Twilight Saga series based on the romantic fantasy novels of the same name starring Robert Pattison and Kristen Stewart, directed by Catherine Hardwick. Twilight focuses on the romantic relationship between Bella Swan (Stewart) and the mysterious Edward Cullen (Pattison) who as well as being incredibly handsome with great hair also a 104-year-old vampire. This first installment also sets the scene for the following films and introduces the history and rivalry between vampires and werewolves. When it was released in 2008 it was, to quote James King "The must-see movie of the year", it also launched Pattison and Stewart into superstardom. Slated on its release by critics - many of them middle-aged men - not teenage girls who for many of them the story of a teenage girl falling in love with a sexy vampire was just the film they wanted to see. With a run time of over two hours, it's probably a bit too long but it is enjoyable - particularly the ferocious animal attraction between Bella and Edward.
Scores
[supsystic-tables id=181] Twilight scores highly on recommendability - definitely feels like now is a good time to revisit it and holds its own in the teen movie genre. Twilight loses some points with engagement and scores 3.68 overall. What do you guys think? Have you seen Twilight? What did you think? Please let us know in the comments below!
Episode #174 Crew Links
Thanks to the Episode #174 Crew of James King (@jameskingmovies) from Radio 2 and Ben Travis (@BenSTravis) from Empire Magazine. Find their Websites online at https://www.amazon.co.uk/Be-More-Keanu-James-King/dp/1529110327/ref=sr_1_1?crid=PBQGVU2AF9LT&dchild= And at https://www.empireonline.com/ Please make sure you give them some love
More about Twilight
For more info on Twilight, you can visit Twilight IMDb page here or Twilight Rotten Tomatoes page here.
Final Plug! Subscribe, Share and Review us on iTunes
If you enjoyed this episode of Flixwatcher Podcast you probably know other people who will like it too! Please share it with your friends and family, review us, and join us across ALL of the Social Media links below.