George and Charlie from the Retro Ramble Podcast return to Flixwatcher remotely to review The Martian.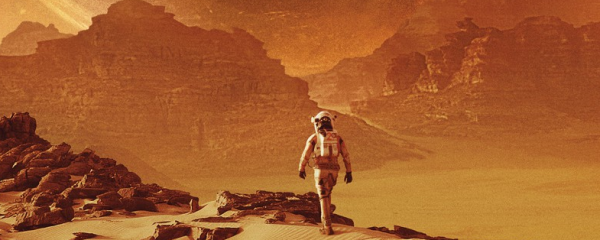 The Martian is a 2015 science fiction comedy-drama starring Matt Damon and directed by Ridley Scott, based on the Andy Weir novel of the same name. Matt Damon is Mark Watney - astronaut and botanist - left for dead by his crew when they are forced to make an emergency departure from their colony on Mars, who uses remarkable resources and knowledge to grow potatoes to keep himself alive while waiting for rescue. Supporting cast includes Jessica Chastain, Jeff Daniels, Kristen Wiig, Chiwetel Ejiofor, Sean Bean, Michael Peña, Kate Mara, Sebastian Stan, Aksel Hennie, Mackenzie Davis, Donald Glover, and Benedict Wong - but it's Damon's film, winning a Golden Globe for his efforts. The Martian is a believable space movie in that it explains the science in a way that is easy to understand and in the hands of Ridley Scott the landscapes and technology are equally as believable. Ignore the science and it's a human survival story and you can't root for Watney. Is it better than the book? That's for you to decide!
Scores
[supsystic-tables id=178] The Martian scores highly on recommendability. But with a run time of 2 hrs 21 mins, the repeat viewing and small screen scores are lower. An excellent film but best watched on the big screen, The Martian scores 3.60 overall. What do you guys think? Have you seen The Martian? What did you think? Please let us know in the comments below!
Episode #171 Crew Links
Thanks to the Episode #171 Crew of George (@GeorgeMcghee) from, the Retro Ramble Podcast and Charlie (@RetroRambleBlog) also from the Retro Ramble Podcast. Find their Websites online at https://retroramble.blog/ Please make sure you give them some love
More about The Martian
For more info on The Martian, you can visit The Martian IMDb page here or The Martian Rotten Tomatoes page here.
Final Plug! Subscribe, Share and Review us on iTunes
If you enjoyed this episode of Flixwatcher Podcast you probably know other people who will like it too! Please share it with your friends and family, review us, and join us across ALL of the Social Media links below.