Charlie and George from the Retro Ramble Podcast join Flixwatcher remotely to review Charlie's choice The Lincoln Lawyer.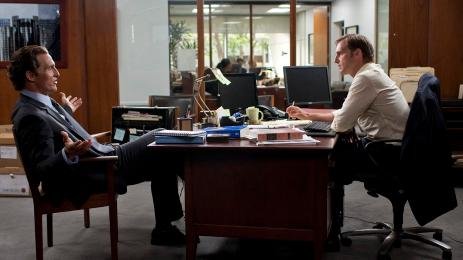 The Lincoln Lawyer is a 2011 drama/thriller film based on the 2005 novel of the same name by Michael Connelly and directed by Brad Furman. It stars Matthew McConaughey as The Lincoln Lawyer Mick Haller (so-called because his Lincoln car is his office) and has strong support from Marisa Tomei, Ryan Phillippe, Josh Lucas, John Leguizamo, Michael Peña, Bryan Cranston and William H. Macy. Haller is hired to defend the son (Phillippe) of a wealthy Los Angeles businesswoman in an assault case, but the high profile case quickly turns after similarities with a previous case Haller worked arise. Part courtroom drama part whodunit, The Lincoln Lawyer is a fairly enjoyable film. Carried by McConaughey who (according to Helen's chart) is the beginning of the McConaissance with The Lincoln Lawyer.
Scores
[supsystic-tables id=172] The Lincoln Lawyer scores pretty well in the Flixwatcher categories, very high on the small screen but its low repeat viewing brings the overall score to 3.6. What do you guys think? Have you seen The Lincoln Lawyer? What did you think? Please let us know in the comments below!
Episode #165 Crew Links
Thanks to the Episode #165 Crew of Charlie (@RetroRambleBlog) from, the Retro Ramble Podcast and George (@GeorgeMcghee) also from, the Retro Ramble Podcast. Find their Websites online at http://retroramble.blog/ Please make sure you give them some love
More about The Lincoln Lawyer
For more info on The Lincoln Lawyer, you can visit The Lincoln Lawyer IMDb page here or The Lincoln Lawyer Rotten Tomatoes page here.
Final Plug! Subscribe, Share and Review us on iTunes
If you enjoyed this episode of Flixwatcher Podcast you probably know other people who will like it too! Please share it with your friends and family, review us, and join us across ALL of the Social Media links below.