Faye and Rachael from Her Dark Materials join Flixwatcher remotely to review Faye's choice Scott Pilgrim vs. the World.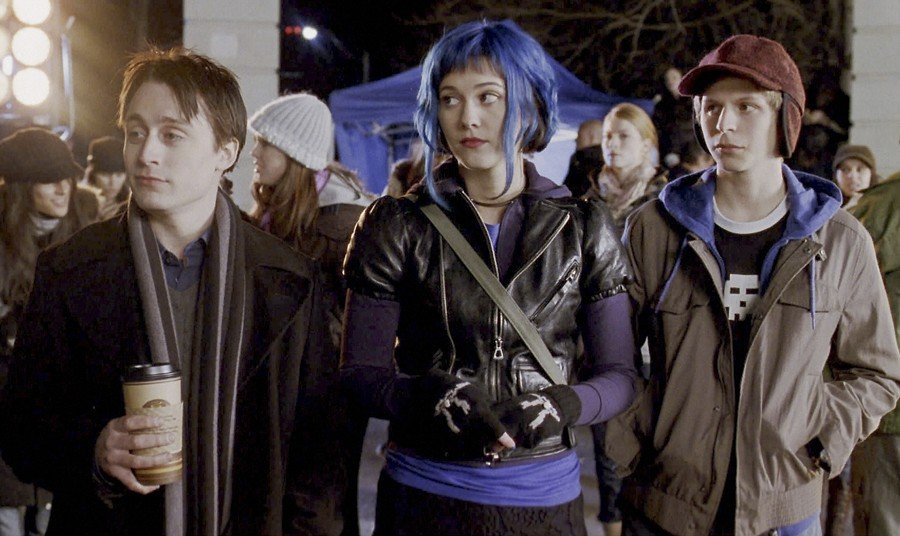 Scott Pilgrim vs. the World is a 2010 film adaption of the graphic novel series Scott Pilgrim directed by Edgar Wright starring Michael Cera as Scott Pilgrim.
In this film Scott must defeat the seven evil ex's of his new girlfriend Ramona Flowers (Mary Elizabeth Winstead) - while playing in a local battle of the bands (which happens to be sponsored by one of the evil ex's Gideon (Jason Schwartzman) with his band Sex Bob-Omb.
It's pretty clear that bringing to life Scott Pilgrim from the page to film was done with love and attention - visually it is dazzling and sounds like nothing else (thanks to Nigel (Radiohead) Godrich. It also features an unbelievably good supporting cast - Kieran Culkin, Chris (Captain America) Evans, Anna Kendrick, Brie Larson, Brandon Routh, Mae Whitman - to name a few.
2020 is a very different time to 2010 - there are a few moments in Scott Pilgrim that are particularly problematic - mostly in the treatment of Knives Chau and some off handed culturally insensitive references. There is also an unpleasant undertone to Gideon's control over his ex Ramona. And it's hard to gloss over that Scott is quite a bit of a dick.
Scores
[supsystic-tables id=164]
However, die-hard fans of the comic will find a lot to enjoy (there was a lot of love for it on Twitter) and it's an interesting offer from Edgar Wright. Despite scoring low on recommendability Scott Pilgrim picks up some higher scores across the other categories to score a reasonable 3.95 overall.
What do you guys think? Have you seen Scott Pilgrim. Vs The World? What did you think? Please let us know in the comments below!
Episode #157 Crew Links
Thanks to the Episode #157 Crew of Faye (@fayeleyyy) from Her Dark Materials and Rachael (@rach_makes) also from Her Dark Materials.
Find their websites online at https://anchor.fm/her-dark-materials
and at https://twitter.com/HDMPod
Please make sure you give them some love
More about Scott Pilgrim.Vs The World
For more info on Scott Pilgrim. Vs The World, you can visit Scott Pilgrim. Vs The World IMDb page here or Scott Pilgrim.Vs The World Rotten Tomatoes page here.
Final Plug! Subscribe, Share and Review us on iTunes
If you enjoyed this episode of Flixwatcher Podcast you probably know other people who will like it too! Please share it with your friends and family, review us, and join us across ALL of the Social Media links below.