Rich Nelson (Betamax Video Club podcast) and Ben Dadds (Top Film Tip) return to Flixwatcher to review Rich's choice Coming to America.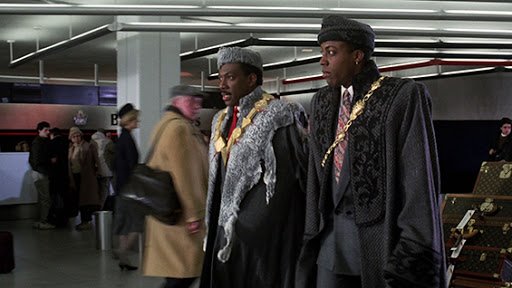 Coming to America is a 1998 romantic comedy directed by John Landis and starring Eddie Murphy (in a number of roles - starting what would become a staple of his), Arsenio Hall, and James Earl Jones. The plot is surprisingly touching, Prince Akeem Joffer (Murphy) rejects the gift of a bride for his 21st birthday and heads to downtown Queens, New York with his assistant, Semmi (Hall) to find true love and someone who'll accept him as a person, not a prince. Any respectable child of the 1980s will have fond memories of watching this way before the tender age of 15 it was rated as suitable for. A blockbuster at the time, featuring an entirely black cast (fairly unheard of even now) Coming to America is carried throughout by peak Murphy - charming, funny, and knowing - possibly his last great film.
Scores
[supsystic-tables id=162] Coming to America has aged reasonably well - a reminder of the prospect of multiple Murphy's being something to look forward to not avoid - but nothing can hide that fact it is over two hours. Coming to America scores 4.01 overall, look out for the sequel. What do you guys think? Have you seen Coming to America? What did you think? Please let us know in the comments below!
Episode #155 Crew Links
Thanks to the Episode #155 Crew of Rich Nelson (@BetaMaxPod) from Betamax Video Club podcast and Ben Dadds (@topfilmtip) from Top Film Tip. Find their websites online at https://tunein.com/podcasts/Media--Entertainment-Podcasts/Betamax-Video-Club-p1205348/ and at https://twitter.com/TopFilmTip Please make sure you give them some love
More about Coming to America
For more info on Coming to America, you can visit Coming to America IMDb page here or Coming to America Rotten Tomatoes page here.
Final Plug! Subscribe, Share and Review us on iTunes
If you enjoyed this episode of Flixwatcher Podcast you probably know other people who will like it too! Please share it with your friends and family, review us, and join us across ALL of the Social Media links below.