Matt Brothers (Spocklight Podcast) and Amelie Thomas (Fatal Attraction Podcast) return to Flixwatcher to review Matt's choice Friday Night Lights.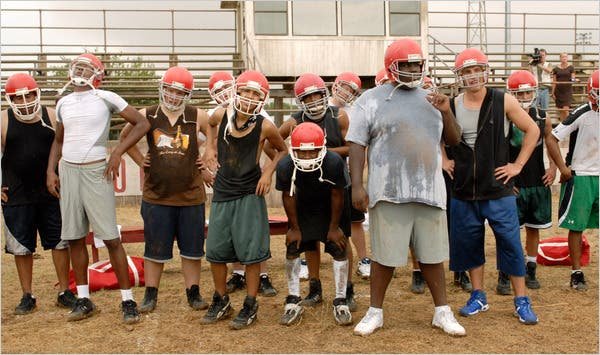 Friday Night Lights is a 2004 American football drama directed by Peter Berg based on Friday Night Lights: A Town, a Team, and a Dream, a non-fiction book by H. G Bissinger based on the story of the 1988 Permian High School Panthers football team from Odessa, Texas. Berg went on to develop the story in the television series of the same name. The film starts at the pre-season practice session for the Panthers, expectations are high for both the players and coach Gary Gaines (Billy Bob Thornton). Drama hits quickly when star player James "Boobie" Miles is injured in practice and ends up sustaining a further injury in the opening game. Drawing criticism from a passionate and slightly terrifying town, for whom the Panthers are everything. Without their star player, the Panthers struggle to live up to expectations of the season and fall victim to many sport film tropes. Friday Night Lights the film suffers where the television series excels by having space to flesh out the characters, by focusing on so many characters in a relatively short space of time they feel almost stereotypes rather than real people.
[supsystic-tables id=160] How much enjoyment you'll get from Friday Night Lights may depend on your knowledge and love of American football. However, it's hard not to get behind the players and be caught up with the thrill and lights of the game. Friday Night Lights scores 3.14 overall. What do you guys think? Have you seen Friday Night Lights? What did you think? Please let us know in the comments below!
Episode #153 Crew Links
Thanks to the Episode #153 Crew of Matt Brothers ( @MattBrothers2 ) from Spocklight Podcast and Amelie Thomas (@TheOnlyCleoLuna) from fatal Attraction Podcast. Find their websites online at https://spocklight.podbean.com/ and at https://player.fm/series/fatal-attractions Please make sure you give them some love
More about Friday Night Lights
For more info on Friday Night Lights, you can visit Friday Night Lights IMDb page here or Friday Night Lights Rotten Tomatoes page here.
Final Plug! Subscribe, Share and Review us on iTunes
If you enjoyed this episode of Flixwatcher Podcast you probably know other people who will like it too! Please share it with your friends and family, review us, and join us across ALL of the Social Media links below.