Georgie Grier (The Screenster Podcast) and Hannah Russell (Mags Creative: Deliciously Ella, Honestly with Clement Telford) return to flixwatcher to review Georgie's choice the 2014 biographical drama Wild.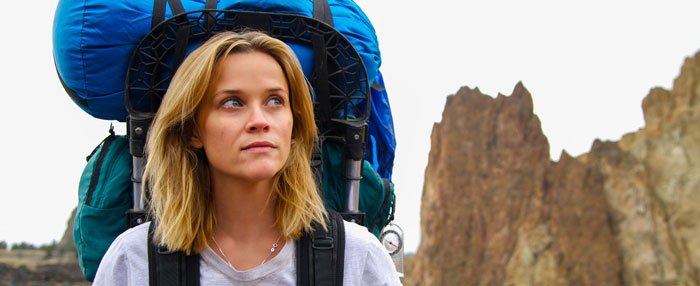 Based on the memoir, Wild: From Lost to Found on the Pacific Crest Trail, Reece Witherspoon stars as Cheryl Strayed who, despite having zero hiding experience decides to walk the Pacific Crest Trail after the death of her mother Bobbi (Laura Dern), divorce, abortion, and heroin addiction. Directed by Jean-Marc Vallée (Dallas Buyers Club) with an adapted screenplay by Nick Hornby and Oscar nominated performances from Witherspoon and Dern make Wild a remarkable journey of determination and self discovery - resisting the usual temptation for over sentimentality and smugness. In a fairly linear style, we follow Cheryl as she sets off packing too much gear and massively out of her depth in the Mojave Desert, through flashbacks and hallucinations we learn of (and vicariously feel) her past trauma and life. Complimenting Witherspoon's remarkable performance is the stunning landscape of The Pacific Crest Trail - 2,653 miles of dramatic mountain ranges. Scores
[supsystic-tables id=155] Wild scores highly across recommendability, let down only by the repeat viewing and small screen scores and scores 3.98 (so nearly a four!) - highly recommended. What do you guys think? Have you seen Wild? What did you think? Please let us know in the comments below!
Episode #149 Crew Links
Thanks to the Episode #149 Crew of Hannah Russell (@hannahruss) from Mags Creative: Deliciously Ella,(@mags.creative) Honestly with Clemmie Telford and Georgie Grier (@georgie_grier) from The Screenster Podcast Find their websites online at https://www.magscreative.co.uk/ and https://podcasts.apple.com/gb/podcast/the-screenster-podcast/id1453025577 Please make sure you give them some love
More about Wild
For more info on Wild, you can visit Wild IMDb page here or Wild Rotten Tomatoes page here.
Final Plug! Subscribe, Share and Review us on iTunes
If you enjoyed this episode of Flixwatcher Podcast you probably know other people who will like it too! Please share it with your friends and family, review us, and join us across ALL of the Social Media links below.