Amelie Thomas (Fatal Attraction Podcast) and Matt Brothers (Spocklight) join Flixwatcher to review Amelie's Choice La La Land.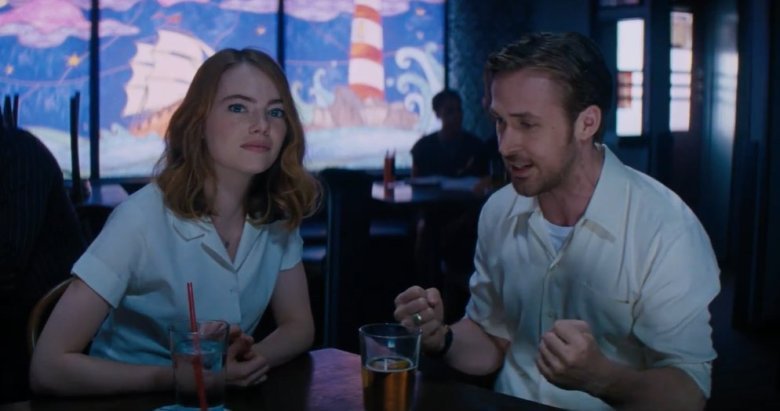 La La Land is a 2016 musical from director Damien (Whiplash) Chazelle starring Ryan Gosling and Emma Stone that nearly won the Best Picture at the Oscars. Mia (Stone) is a struggling/aspiring actress in LA who has a series of chance encounters with Sebastian (Gosling) a struggling and unforgivingly rude jazz pianist. They eventually fall in love only to realize that their own ambitions and the obvious fact they are clearly not compatible and break up. More divisive than Marmite, La La Land drew many criticisms for being a musical without any particularly memorable songs (among other criticisms) - which wouldn't matter but by not having the songs it betrays the musical genre. To others though it's a romantic story with fated lovers set against the LA backdrop. Watch it and decide for yourself.
Scores
[supsystic-tables id=153] Strong support in the scoring for La La Land from guests Amelie and Matt and Kobi but less enthusiasm from Helen brings the overall score to 3.58. A mixed reception from Twitter echos the feelings in the studio. What do you guys think? Have you seen La La Land? What did you think? Please let us know in the comments below!
Episode #147 Crew Links
Thanks to the Episode #147 Crew of Amelie Thomas (@TheOnlyCleoLuna) from Fatal Attraction Podcast and Matt Brothers (@MattBrothers2) from Spocklight. Find their websites online at:https://player.fm/series/fatal-attractions and https://spocklight.podbean.com/ Please make sure you give them some love
More about La La Land
For more info on La La Land, you can visit La La Land IMDb page here or La La Land Rotten Tomatoes page here.
Final Plug! Subscribe, Share and Review us on iTunes
If you enjoyed this episode of Flixwatcher Podcast you probably know other people who will like it too! Please share it with your friends and family, review us, and join us across ALL of the Social Media links below.