Happy 2020 everyone!! Viv Groskop (How to Own a Room) and Rosie Wilby (The Breakup Monologues) return to Flixwatcher to review Viv's choice, Goodfellas.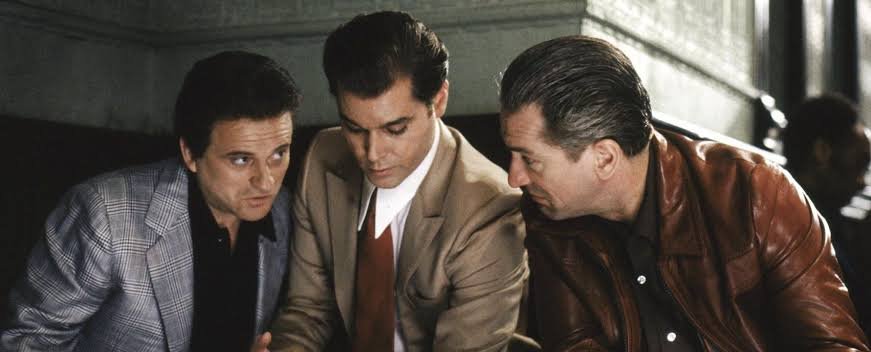 Goodfellas is the 1990 gangster crime epic from Martin Scorsese starring Ray Liotta, Robert De Niro and Joe Pesci based on the non-fiction book Wiseguy. It tells the rise and fall of mob wannabe Henry Hill from 1955 to 1980. Arguably the greatest mob film ever made, Goodfellas was the inspiration for The Sopranos and Scorsese's directorial choice of freeze frames, fast cutting and the long tracking shots influenced nearly every director after. The acting is impeccable - Joe Pesci won Best Supporting Actor for his role as the unpredictable and violent Tommy and as you'd expect from a Scorsese film its soundtrack is not only awesome but it helps the pacing of each decade.
Scores
[supsystic-tables id=143] However, it's not for everyone, there is an argument that Goodfellas does glamourise violence and the mob lifestyle but given that no one ends up unscathed in the end is definitely not glamorous it's a flimsy argument. It is violent and sweary and at two hours 25 minutes it's not a short watch. This Scorsese classic scores a very strong 4.19 overall. What do you guys think? Have you seen Goodfellas? What did you think? Please let us know in the comments below!
Episode #138 Crew Links
Thanks to the crew of episode 138 Rosie Wilby (@rosiewilby) from The Breakup Monologues and Viv Groskop (@VivGroskop )from How to Own a Room Find their websites online at https://www.amazon.co.uk/How-Own-Room-Brilliant-Speaking and www.rosiewilby.com Please make sure you give them some love
More about Goodfellas.
For more info on Goodfellas, you can visit Goodfellas IMDb page here or Goodfellas Rotten Tomatoes page here.
Final Plug! Subscribe, Share and Review us on iTunes
If you enjoyed this episode of Flixwatcher Podcast you probably know other people who will like it too! Please share it with your friends and family, review us, and join us across ALL of the Social Media links below.