Comedians Funmbi Omotayo (Quotas Full) and Dane Baptiste (Questions Everything) return to Flixwatcher to review Funmbi's choice, Training Day.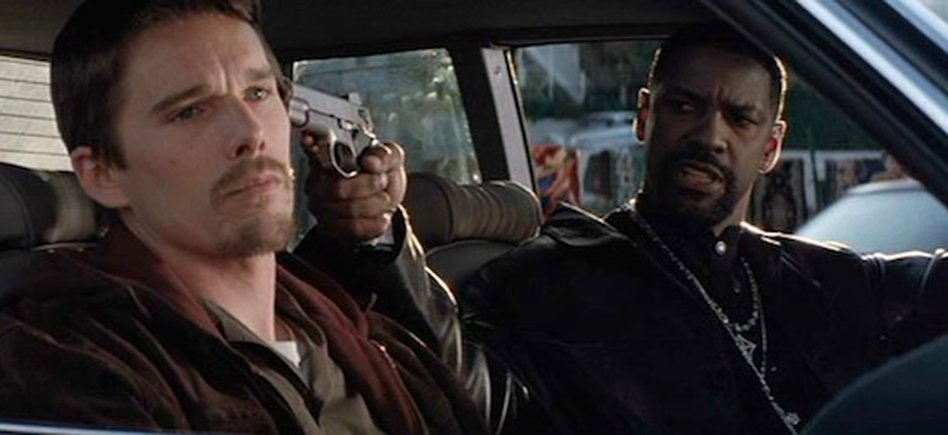 Training Day is a 2001 film from Antoine Fuqua and written by David Ayer, it stars Ethan Hawke as rookie officer Jake Hoyt on his first day with live wire Detective Alonzo Harris played by Denzel Washington earning him his second Best Actor Oscar. Training Day isn't a typical buddy cop movie, things get dark pretty quickly, Denzel's Alonzo doses Hoyt with PCP laced marijuana which he forces him to smoke at gunpoint and what follows is a day of robbery, corruption, and murder. all this is in the eyes of Alonzo 'part of the job'. Training Day is all about Denzel. Clearly enjoying playing (a rare) bad guy role and bringing some humanity to a character that is a complete psychopath. Ethan Hawke just about manages to keep up but it's Denzel's film - a great performance but on reflection maybe not worthy of all the Oscar nominations it received.
Scores
[supsystic-tables id=138] Despite a dubious and unintentionally laughable ending Training Day scores very highly across recommendability and only loses points on repeat viewing to score a very respectable 4.26 overall. What do you guys think? Have you seen Training Day? What did you think? Please let us know in the comments below!
Episode #133 Crew Links
Thanks to the Episode #133 Crew of Dane Baptiste @DaneBaptweets from Questions Everything and Funmbi Omotayo @funmbi from Quotas Full Find their websites online at: https://danebaptiste.co.uk/ and https://soundcloud.com/quotas-full Please make sure you give them some love
More about Training Day
For more info on Training Day, you can visit Training Day IMDb page here or Training day Rotten Tomatoes page here.
Final Plug! Subscribe, Share and Review us on iTunes
If you enjoyed this episode of Flixwatcher Podcast you probably know other people who will like it too! Please share it with your friends and family, review us, and join us across ALL of the Social Media links below.