Caitlin Quinlan and Steph Watts from Bechdel Fest and Who Is She podcast join Flixwatcher to review Caitlin's choice Moonstruck.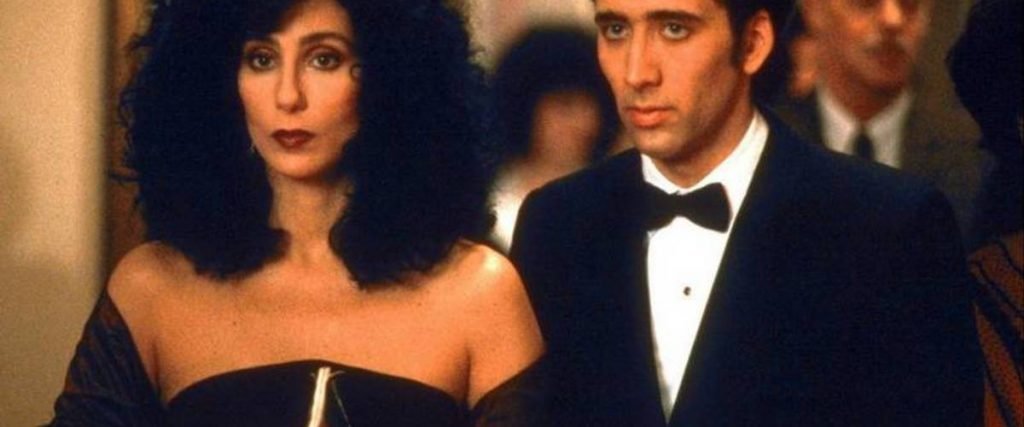 Moonstruck
is an utterly bonkers Oscar winning romantic comedy starring Cher and Nic Cage. Cher plays Loretta, an unlucky in love widow who gets engaged to Johnny (Danny Aiello) but ends up falling for his brother Nic Cage's Ronny. Ronny, also unlucky in love having lost his fiancée when he lost his hand (mostly just his fingers really) in a bread machine.
Unbelievably now
Moonstruck
won three Oscars, Cher scooped best actress, Olympia Dukakis won best supporting actress and it took home best original screenplay. It's fair to say 1987 was an odd year for cinema. It's also fair to say
Moonstruck
is an odd film, alongside Cher & Nic Cage getting frisky under the
moon
there are other various infidelities going on.
Scores
[supsystic-tables id=135] There is a definitely a certain fondness for Moonstruck - you either have it or you don't though - if you don't it's hard feel much for it and it possibly hasn't aged that well. There was a lot of love for it on Twitter and helped by Caitlin's very generous scoring Moonstruck manages a surprising 4.06 overall. What do you guys think? Have you seen Moonstruck? What did you think? Please let us know in the comments below!
Episode #130 Crew Links
Thanks to the Episode #130 Crew of Caitlin Quinlan (@csaquinlan) and Steph Watts (@stephwatts) from Bechdel Fest (@BechdelTestFest) and Who Is She podcast Find their websites online at: http://bechdeltestfest.com/podcast/ https://caitlinquinlan.contently.com/ and https://about.me/stephwatts Please make sure you give them some love
More about Moonstruck
For more info on Moonstruck, you can visit Moonstruck IMDb page here or Moonstruck Rotten Tomatoes page here.
Final Plug! Subscribe, Share and Review us on iTunes
If you enjoyed this episode of Flixwatcher Podcast you probably know other people who will like it too! Please share it with your friends and family, review us, and join us across ALL of the Social Media links below.