It's Episode 114! Adelle Drover (Roll Credits) and Clarisse Loughrey (Independent and Kermode and Mayo) return to Flixwatcher to review Adelle's choice the 2004 zombie romcom Shaun of the Dead.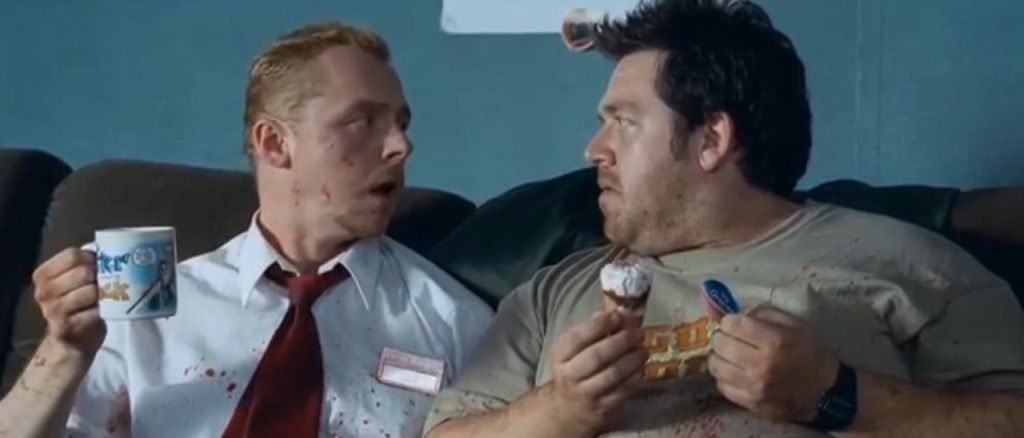 Shaun of the Dead is the first in the Cornetto Trilogy of Edgar Wright and Simon Pegg post Spaced feature films. Pegg is Shaun, a directionless Londoner caught up in a zombie apocalypse while trying to get back together with his girlfriend with his best mate Ed (Nick Frost) in tow. At a run time of 99 minutes Shaun of the Dead manages to fit in numerous nods to all your favourite zombie films, Spaced references, classic lines "you've got red on you", cameos from the who's who of British comedy, Queen on the soundtrack and a commendable level of gore. A proper cult classic.
Scores
[supsystic-tables id=119] Watching Shaun of the Dead feels a lot like hanging out with your best mate and is also a friendly welcome to the zombie sub genre. Shaun scores highly across all categories with a lot of love from Clarisse and Helen scoring 4.45 overall. What do you guys think? Have you seen Shaun of the Dead? What did you think? Please let us know in the comments below!
Episode #114 Crew Links
Thanks to the Episode #114 Crew of Clarisse Loughrey ()(Independent and Kermode and Mayo) and Adelle Drover() from Roll Credits Find their website online at: https://www.independent.co.uk/author/clarisse-loughrey and https://www.rollcredits.net/ Please make sure you give them some love
More about Shaun of the Dead
For more info on Shaun of the Dead, you can visit the Shaun of the Dead IMDb page here or the Shaun of the Dead Rotten Tomatoes page here.
Final Plug! Subscribe, Share and Review us on iTunes
If you enjoyed this episode of Flixwatcher Podcast you probably know other people who will like it too! Please share it with your friends and family, review us, and join us across ALL of the Social Media links below.