It's Episode 111! Clarisse Loughrey (Independent and Kermode and Mayo) and Adelle Drover (Roll Credits) join Flixwatcher to review Clarisse's choice Snowpiercer.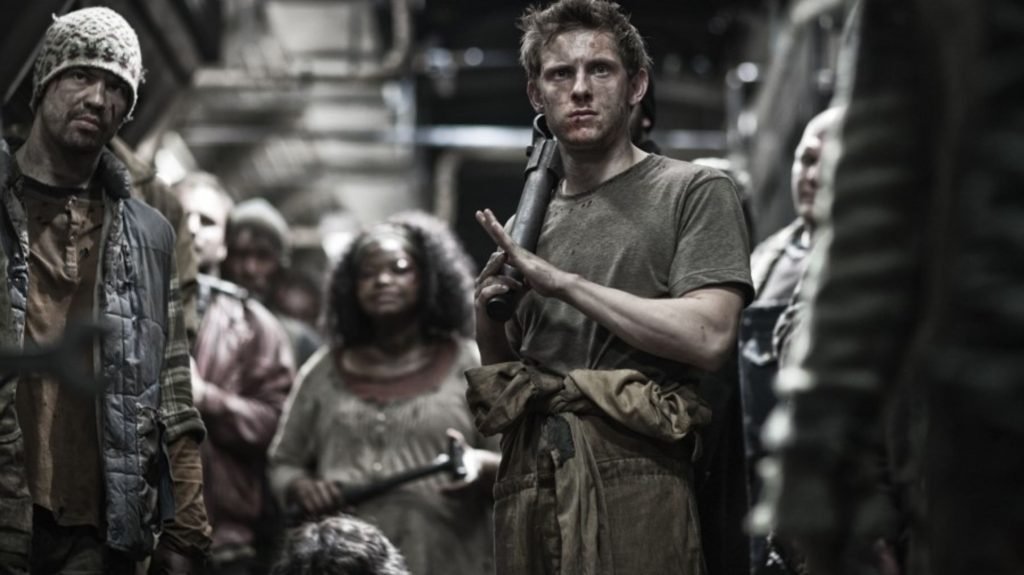 Snowpiercer is a 2013 dystopian science fiction action film by Korean genius Bong Joon-ho starring Chris (Steve Rogers) Evans, Tilda Swinton, Jamie Bell, Song Kang-ho, Octavia Spencer, John Hurt and Ed Harris. Despite being released in America in 2013 its biggest UK release was May 2019 on Netflix. In an attempt to combat global warming (take note planet) climate engineering goes wrong and turns the planet into a barren iced wasteland and the only survivors left are travelling, in order of class (upper at the front having orgies, middle class in the middle and the lower class at the back eating cockroach protein bars and keeping the travel running) on Snowpiercer as it travels at speed to no apparent destination. Following the abduction of two children from the back of the train Evans launches a mission to get to the front of the train to take control and violence and bizarreness ensues, including Octavia Spencer cracking an egg on a child's face.
Scores
[supsystic-tables id=116] There was a LOT of love for Snowpiercer, especially Clarisse but there was a record number of reviews tweeted too (thanks everyone!) and rightly so, only losing points on repeat viewing (over two hours is a long repeat viewing) and some for small screen but high all round for recommendability and engagement, scoring 4.11 overall. What do you guys think? Have you seen Snowpiercer? What did you think? Please let us know in the comments below!
Episode #111 Crew Links
Thanks to the Episode #111 Crew of Clarisse Loughrey ()(Independent and Kermode and Mayo) and Adelle Drover() from Roll Credits Find their website online at: https://www.independent.co.uk/author/clarisse-loughrey and https://www.rollcredits.net/ Please make sure you give them some love
Flixwatcher Spotify Playlist
It has to be Putting on the Ritz, but there is no Gene Wilder version so we have added the Mel Torme Version!
More about Snowpiercer
For more info on Snowpiercer, you can visit the Snowpiercer IMDb page here or the Snowpiercer Rotten Tomatoes page here.
Final Plug! Subscribe, Share and Review us on iTunes
If you enjoyed this episode of Flixwatcher Podcast you probably know other people who will like it too! Please share it with your friends and family, review us, and join us across ALL of the Social Media links below.