It's Episode 109! Helen O'Hara (Empire Magazine) and Zoe Jeyes (the home of podcasting Kings Place) join to Flixwatcher to discuss Helen's choice Hearts Beat Loud.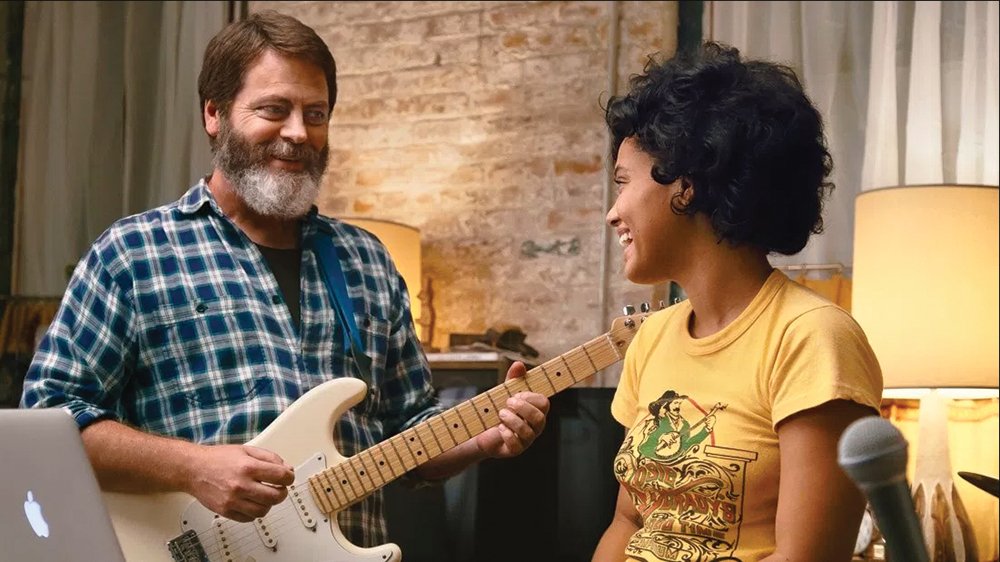 Hearts Beat Loud is a 2018 American comedy-drama with a stellar cast that includes Nick Offerman, Kiersey Clemons, Ted Danson, Sasha Lane, Blythe Danner and Toni Collette. Grumpy record store owner Offerman is facing the closure of his store and his only daughter living home for the university while also dealing with his mother's dementia and the on and off affections of his landlady but manages to also write an awesome pop tune with his daughter on the side. Hearts Beat Loud could be High Fidelity's sweeter, less of dick, Spotify friendly sibling. It features some nice niche music moments including karaoke to Chairlift's Bruises and up-selling of Animal Collective and that 90s nostalgia.
Scores
[supsystic-tables id=114] With a runtime of one hour and 37 mins it zips along in a breezy way and is a joy to spend time with. There was a LOT of love for Hearts Beat Loud, it even gets a five for recommendability from Kobi, giving it a very high 4.46 score overall (making the top ten in the rankings). What do you guys think? Have you seen Hearts Beat Loud? What did you think? Please let us know in the comments below!
Episode #109 Crew Links
Thanks to the Episode #109 Crew of Helen O'Hara (@HelenLOHara) from Empire magazine and Zoë Jeyes (@zozrat) from the home of podcasting Kings Place Find their websites online at: https://www.empireonline.com/ and https://www.kingsplace.co.uk/ Please make sure you give them some love
Flixwatcher Spotify Playlist
It has to be Putting on the Ritz, but there is no Gene Wilder version so we have added the Mel Torme Version!
More about Hearts Beat Loud
For more info on Hearts Beat Loud, you can visit the Hearts Beat Loud IMDb page here or the Hearts Beat Loud Rotten Tomatoes page here.
Final Plug! Subscribe, Share and Review us on iTunes
If you enjoyed this episode of Flixwatcher Podcast you probably know other people who will like it too! Please share it with your friends and family, review us, and join us across ALL of the Social Media links below.