Its Episode 106! Hannah (LWL) and Ella (Culture Whisper) return for Ella's choice Miss Stevens.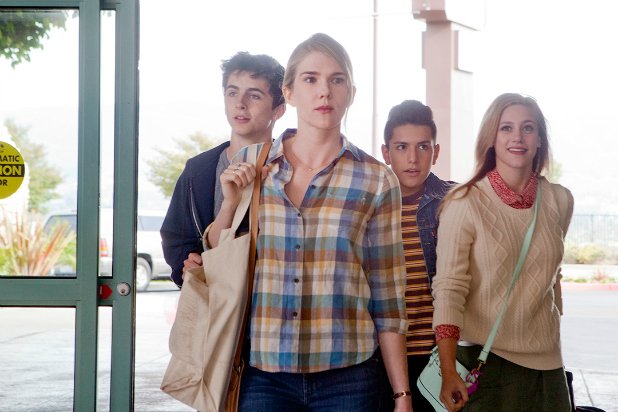 Miss Stevens is a 2016 drama directed by Julia Hart starring Lily Rabe in the titular role and Timothée Chalamet. Miss Stevens chaperones three drama students to a weekend state drama competition and that's the plot. At the same time the students are competing against each other at the event reciting their favourite drama pieces there is drama in real life. Miss Stevens is struggling with the death of her mother and on a personal journey through grief but distracted by the advances of a sleazy teacher and the complicated affections of a teenage Timothée. The star of the show is Chalamet, acting his chops off for the competition and everyone in the film, the result of this leaves everyone else looking a bit average. Ultimately, Miss Stevens is a road trip for her, but her journey is eclipsed by how good Chalamet is and while he is brilliant he takes the focus away from her and into his less developed character. There is also an awkward subplot of their romantic attraction that the film didn't need to have.
Scores
[supsystic-tables id=111] Miss Stevens is not quite the profound and moving experience the filmmakers want it to be but it's still an interesting film and a must view for any Chalamet fans. That said at 86 minutes you won't regret spending time with it and it zips along with a breezy soundtrack. Miss Stevens scores 3.29 overall, scoring strongly on small screen. What do you guys think? Have you seen Miss Stevens? What did you think? Please let us know in the comments below!
Episode #106 Crew Links
Thanks to the Episode #106 Crew of Hannah Woodhead (@goodjobliz) and Ella Kemp (@efekemp) from Truth & Movies podcast (@TruthAndMovies) Find their websites online at: hewoodhead.co.uk and howmanystars.co.uk Please make sure you give them some love
Flixwatcher Spotify Playlist
It has to be Putting on the Ritz, but there is no Gene Wilder version so we have added the Mel Torme Version!
More about Miss Stevens
For more info on Miss Stevens, you can visit the Miss Stevens IMDB page here or the Miss Stevens Rotten Tomatoes page here.
Final Plug! Subscribe, Share and Review us on iTunes
If you enjoyed this episode of Flixwatcher Podcast you probably know other people who will like it too! Please share it with your friends and family, review us, and join us across ALL of the Social Media links below.