It's Episode 93! Miriam and Gareth, fellow Shabbos Rollers, join Flixwatcher to review Joe (Adam & Joe) Cornish's debut film Attack the Block.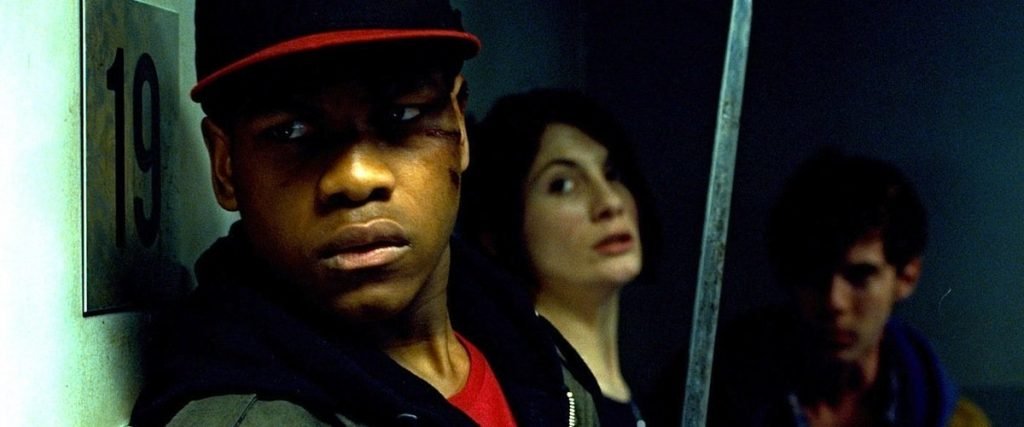 As well as being Cornish's debut it is also John Boyega's first film too, starring as Moses. A gang leader whose Bonfire Night features mugging, being arrested and battling aliens. Showing his influences on his sleeve, Attack the Block takes e.t, Aliens, Signs and Star Wars and transplants them into the social housing towers of south London.
Scores
[supsystic-tables id='96'] Mixing sci-fi and horror with a sort of coming of age story Attack the Block manages to be both spectacularly cinematic and terribly British at the same time while throwing in some social commentary for good measure. Scoring highly from Miriam, Gareth and Kobi but a lit lower from Helen, Attack the Block scores a very respectable 3.63 overall. What do you guys think? Have you seen Attack the Block.? What did you think? Please let us know in the comments below!
Episode #093 Crew Links
Thanks to the Episode #093 Crew of Miriam Silverman and Gareth Dimelow Please make sure you give them some love
Flixwatcher Spotify Playlist
It has to be Putting on the Ritz, but there is no Gene Wilder version so we have added the Mel Torme Version!
More about Attack the Block.
For more info on Attack the Block, you can visit the Attack the Block IMDB page here or the Attack the Block Rotten Tomatoes page here.
Final Plug! Subscribe, Share and Review us on iTunes
If you enjoyed this episode of Flixwatcher Podcast you probably know other people who will like it too! Please share it with your friends and family, review us, and join us across ALL of the Social Media links below.