It's Episode 88! Olly Man (Modern Mann) and Alix Fox (Unexpected Fluids) to review Olly's choice the 1975 Woody Allen comedy Love and Death.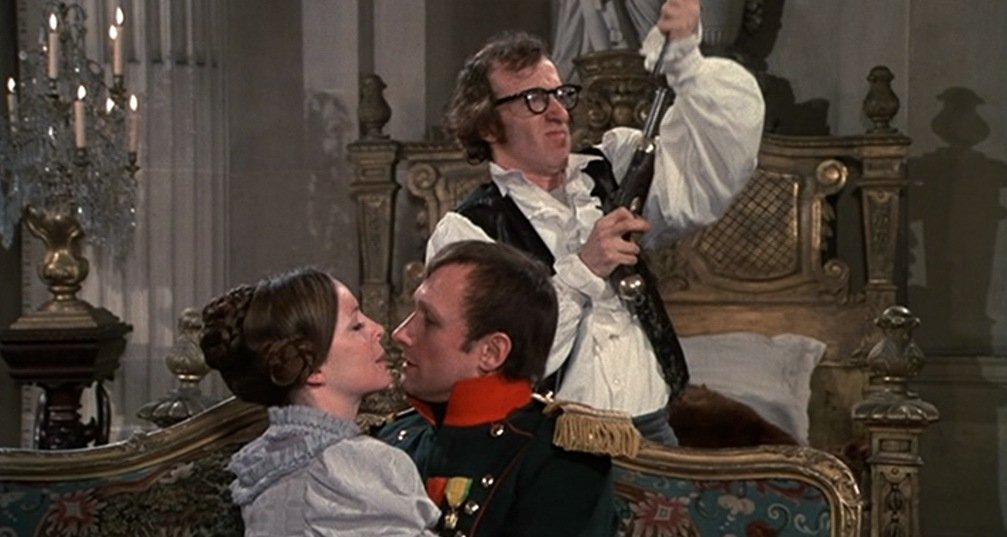 Unbelievably Love and Death comes in between the bonkers Sleeper and largely considered his masterpiece, Annie Hall. The tail end of what is often referred to as his 'earlier funnier ones' and Love and Death is funny and silly. This comes before what is now largely an unwatchable experience, Manhattan, and the obsession with girls clearly more than half Allen's age. Did we mention it's silly? So silly. Some of the visual gags and slapstick are still funny and it's so ridiculous at times that it zips along quite nicely with its 95-minute run-time. It also features a perfect performance by Diane Keaton who gets as many of the brilliant gags and witty dialogue - which doesn't happen much for actresses at all, let alone the 70s.
Scores
[supsystic-tables id='91'] Love and Death is no Annie Hall and the scores reflect this, scoring 3.48 overall, it's definitely more recommended than Manhattan. What do you guys think? Have you seen Love and Death? What did you think? Please let us know in the comments below!
Episode #088 Crew Links
Thanks to the Episode #088 Crew of Olly Man () and Alix Fox () from Modern Mann () Find their website online here: https://www.modernmann.co.uk/ Please make sure you give them some love
Flixwatcher Spotify Playlist
It has to be Putting on the Ritz, but there is no Gene Wilder version so we have added the Mel Torme Version!
More about Love and Death
For more info on Love and Death, you can visit the Love and Death IMDB page here or the Love and Death Rotten Tomatoes page here.
Final Plug! Subscribe, Share and Review us on iTunes
If you enjoyed this episode of Flixwatcher Podcast you probably know other people who will like it too! Please share it with your friends and family, review us, and join us across ALL of the Social Media links below.