It's Episode 73 and it's a special edition! For this episode we have THREE guests! Not Another Book Podcast join us to review the 2013 documentary Blackfish, the choice of Post Colonial Child.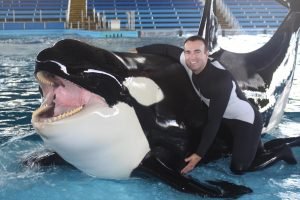 If you haven't seen this heartbreaking and shocking documentary - stop reading and head straight to Netflix. A modern day tragedy for human and mammals, Blackfish is the true story of Tilikum, a captive killer whale responsible for the death of three people. It's focus is the tragic death of Dawn Branchau, an experienced and dedicated SeaWorld trainer and the incidents of abuse to the whale that killed her leading up to the violent incident. Barely making a ripple at the box office the legacy of Blackfish is still being felt, John Lassiter and Andrew Stanton changed the story of Finding Nemo after watching this and SeaWorld faced an 84% drop in profits in 2015.
Scores
[supsystic-tables id='75'] Its impossible not to be moved or shocked by this well directed and captive documentary and it's power is reflected in the scores from Flixwatcher and guests. Blackfish scores overall a strong 4.19, especially for a documentary- recommended. What do you guys think? Have you seen Blackfish? What did you think? Please let us know in the comments below!
Episode #073 Crew Links
Thanks to the Episode #073 Crew of Books and Rhymes , Post Colonial Child , and Book Shy Books , from Not Another Book Podcast . Find their website online here: https://linktr.ee/nabookpodcast Please make sure you give them some love
Flixwatcher Spotify Playlist
It has to be Putting on the Ritz, but there is no Gene Wilder version so we have added the Mel Torme Version!
More about Blackfish
For more info on Blackfish, you can visit the Blackfish IMDB page here or the Blackfish Rotten Tomatoes page here.
Final Plug! Subscribe, Share and Review us on iTunes
If you enjoyed this episode of Flixwatcher Podcast you probably know other people who will like it too! Please share it with your friends and family, review us, and join us across ALL of the Social Media links below.