This is Episode 70! Tom and John from Best Pick Podcast return for John's choice Tucker and Dave vs Evil.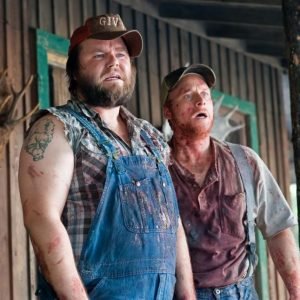 Tucker and Dale vs Evil is the cabin in the woods, hillbilly in reverse 2010 comedy horror, the always watchable Alan Tudyk and Tyler Labine are the hillbillies who inadvertently become mixed up with a murderous teen and a series of unfortunately grisly (but hilarious) methods of death.
Scores
[supsystic-tables id='72'] With a run time of 89 minutes this comedy horror nips along on its rather thin premise. There isn't much to dislike here, while it's not quite as clever as it thinks it is it does deliver on gags and grossness. Tucker and Dale scores reasonably well in small screen and engagement (that'll be the 89 minutes!) and overall comes in at 3.54, if this is your thing enjoy! What do you guys think? Have you seen Tucker and Dale vs Evil? What did you think? Please let us know in the comments below!
Episode #070 Crew Links
Thanks to the Episode #070 Crew of John Dorney and Tom Salinsky from Best Pick Podcast Find their website online here: http://bestpick.libsyn.com Please make sure you give them some love
Flixwatcher Spotify Playlist
It has to be Putting on the Ritz, but there is no Gene Wilder version so we have added the Mel Torme Version!
More about Tucker and Dale vs Evil
For more info on Tucker and Dale vs Evil, you can visit the Tucker and Dale vs Evil IMDB page here or the Tucker and Dale vs Evil Rotten Tomatoes page here.
Final Plug! Subscribe, Share and Review us on iTunes
If you enjoyed this episode of Flixwatcher Podcast you probably know other people who will like it too! Please share it with your friends and family, review us, and join us across ALL of the Social Media links below.