Everyone yells and falls down a lot, it's Episode 69 🍌! Elizabeth (Summercamp & film fan) and Eleanor (Award Winning Short Cuts and Radio Atlas) McDowall join us for Elizabeth's choice Ibiza.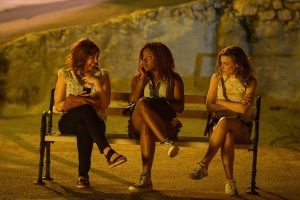 Ibiza is a 2018 film from Will Ferrell and Adam McKay in producer will a plot that is as thin and flimsy as bikinis you'd expect to find in Ibiza. Gillian Jacobs is Harper on a PR trip to Barcelona with her two friends tagging along who meets "empty vessel" DJ and romance doesn't really happen but there is sex. Ibiza is a rom com lacking in the com and the rom, despite Elizabeth's staunch defending there is very little to say about Ibiza.
Scores
[supsystic-tables id='71'] Unsurprisingly Ibiza does not score highly, it manages 2.09 overall. I'm fact the film is so bad the island of Ibiza is potentially bringing a lawsuit against Netflix for depicting the island in such an awful way. What do you guys think? Have you seen Ibiza? What did you think? Please let us know in the comments below!
Episode #069 Crew Links
Thanks to the Episode #069 Crew of Elizabeth Sankey from Summer Camp band and Eleanor McDowall from Radio Atlas Please make sure you give them some love
Flixwatcher Spotify Playlist
It has to be Putting on the Ritz, but there is no Gene Wilder version so we have added the Mel Torme Version!
More about Ibiza
For more info on Ibiza, you can visit the Ibiza IMDB page here or the Ibiza Rotten Tomatoes page here.
Final Plug! Subscribe, Share and Review us on iTunes
If you enjoyed this episode of Flixwatcher Podcast you probably know other people who will like it too! Please share it with your friends and family, review us, and join us across ALL of the Social Media links below.