It's Episode 64! John and Harry from the Beyond the Box Set podcast join us to review John's choice Gods Own Country. This 2017 film set in Yorkshire (get it?!) is a modern love story between a young disillusioned, laddish young farm Johnny and Gheorghe, a Romanian migrant hired to help out on the farm during lambing season.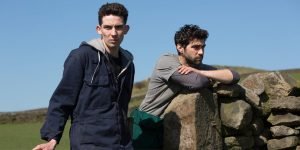 Cruelly overshadowed by the success and acclaim of Call Me By Your Name despite the critical acclaim Gods Own Country didn't have the same reach or audience - this is criminal. Starring the beautiful rolling hills of Yorkshire and wonderful performances from its two stars Josh O'Connor and Alec Secarean Gods Own Country is an earthy, slow burning film about passion, family, things unspoken and intimacy. It's also a fascinating portrait of modern rural life in England.
Scores
[supsystic-tables id='66']Unsurprisingly Gods Own Country scores highly across the categories (near perfect in recommendability 5,5,5 and Kobi's 4.5!). Only let down by repeat viewing and that we wish we'd had the chance to see it on the big screen. Overall a very strong 4.15. Highly recommended. What do you guys think? Have you seen Gods Own Country.? What did you think? Please let us know in the comments below!
Episode #064 Crew Links
Thanks to the Episode #064 Crew of John Lucas @JLucas86 and Harry Chappell @harrychapp from Beyond The Box Set @BeyondTheBoxSet. Find their website online here : http://beyondtheboxset.com Please make sure you give them some love
Flixwatcher Spotify Playlist
It has to be Putting on the Ritz, but there is no Gene Wilder version so we have added the Mel Torme Version!
More about Gods Own Country.
For more info on Gods Own Country, you can visit the Gods Own Country IMDB page here or the Gods Own Country Rotten Tomatoes page here.
Final Plug! Subscribe, Share and Review us on iTunes
If you enjoyed this episode of Flixwatcher Podcast you probably know other people who will like it too! Please share it with your friends and family, review us, and join us across ALL of the Social Media links below.