Welcome to Episode 63! We welcome Gemma and Annabel from the Anthill Podcast back to Flixwatcher to review Gemma's choice the 2009 Neill Blomkamp film District 9.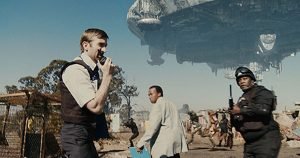 Billed as a Peter Jackson presents District 9 was the breakout film for Sharlto Copley. Filmed and set in Johannesburg it mixes (fake) found footage and documentary styles and is was inspired by the true life events of District Six from the apartheid era. The film, despite providing some genuine comic moments, addresses themes of racism, xenophobia, bureaucracy and refugees and immigrants while moving between sci fi, body horror and action genres. District 9 has aged pretty well and it's themes are still relevant today and it's all held together by Copley's performance and interaction with the 'prawns'.
Scores
[supsystic-tables id='65']Our guests and Flixwatcher scored District 9 highly across most categories bringing the overall score to 4.1 (despite Kobi's low score for repeat viewing!). Highly recommended What do you guys think? Have you seen District 9? What did you think? Please let us know in the comments below!
Episode #063 Crew Links
Thanks to the Episode #063 Crew of Annabel Bligh and Gemma Ware @waresgemma from The Anthill Podcast. Find their website online here: https://theconversation.com/uk Please make sure you give them some love
Flixwatcher Spotify Playlist
It has to be Putting on the Ritz, but there is no Gene Wilder version so we have added the Mel Torme Version!
More about District 9
For more info on District 9, you can visit the District 9 IMDB page here or the District 9 Rotten Tomatoes page here.
Final Plug! Subscribe, Share and Review us on iTunes
If you enjoyed this episode of Flixwatcher Podcast you probably know other people who will like it too! Please share it with your friends and family, review us, and join us across ALL of the Social Media links below.