It's Episode 62! John and Tom from Best Pick Pod join us to review the 1988 action comedy Midnight Run starring Robert De Niro and Charles Grodin.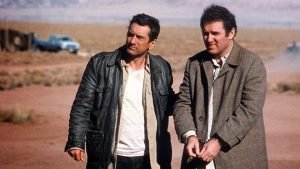 Midnight Run is essentially Planes, Trains and Automobiles played Beverly Hills Cop style, meaning swearing, guns and exploding helicopters! Not surprising as it's from Martin (Beverly Hills Cop) Brest and made in 1988.
De Niro and Grodin made a perfect odd couple on the run from the FBI and the mob making their road trip via ever decreasing levels of comfort in transportation. Considering it's age, seen through 2018 eyes it still holds up pretty well, it's as cheesy as it was in the day but De Niro is genuinely enjoyable and it's a lot of fun.
Scores
[supsystic-tables id='64'] Midnight Run scores fairly high across all categories and overall comes in at 4.33. Warmly recommend by Flixwatcher and guests. What do you guys think? Have you seen Midnight Run? What did you think? Please let us know in the comments below!
Episode #062 Crew Links
Thanks to the Episode #062 Crew of John Dorney and Tom Salinsky from Best Pick Podcast Find their website online here: http://bestpick.libsyn.com Please make sure you give them some love
Flixwatcher Spotify Playlist
It has to be Putting on the Ritz, but there is no Gene Wilder version so we have added the Mel Torme Version!
More about Midnight Run
For more info on Midnight Run, you can visit the Midnight Run IMDB page here or the Midnight Run Rotten Tomatoes page here.
Final Plug! Subscribe, Share and Review us on iTunes
If you enjoyed this episode of Flixwatcher Podcast you probably know other people who will like it too! Please share it with your friends and family, review us, and join us across ALL of the Social Media links below.