Will and Chris return for Episode 59 and we're reviewing Will's choice Nebraska. Not a documentary on the Bruce Springsteen classic album but the 2013 Alexander Payne comedy drama starring Bruce Dern.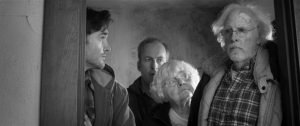 Part road trip, part snapshot of Middle America and part portrait of dementia, shot in black and white Nebraska is funny, poignant and a fantastic vignette of a dysfunctional extended family. Interestingly this was the first film Payne wasn't directly involved in writing, yet it feels very much like he could have. It's very hard not to love this film, the cinematography is beautiful, the whole cast is superb, it's very, very funny, warm and moves along at a lovely gentle pace. We also discover the most watched films by Chris and Will are Mrs Doubtfire and Pat Garrett and Billy the Kid respectively.
Scores
[supsystic-tables id='61']Overall Nebraska scores a very deserving 4.28 from Flixwatcher and guests and there was a lot of love for it from Twitter too. Highly recommended. What do you guys think? Have you seen Nebraska? What did you think? Please let us know in the comments below!
Episode #059 Crew Links
Thanks to the Episode #059 Crew of Chris Smith @ChrisDSmith27 and Will Roe- from Lords @HomeOfCricket. Find their website online here: https://www.lords.org Please make sure you give them some love
Flixwatcher Spotify Playlist
It has to be Putting on the Ritz, but there is no Gene Wilder version so we have added the Mel Torme Version!
More about Nebraska
For more info on Nebraska, you can visit the Nebraska IMDB page here or the Nebraska Rotten Tomatoes page here.
Final Plug! Subscribe, Share and Review us on iTunes
If you enjoyed this episode of Flixwatcher Podcast you probably know other people who will like it too! Please share it with your friends and family, review us, and join us across ALL of the Social Media links below.