Its Episode 52! Kobi and Helen are joined by Chris and Will to review Bernie (Chris' choice), the 2011 black comedy from Richard Linklater starring Jack Black. The bizarre true story of mortician Bernie Tiede (Black) who amongst making the dead look glamorous also has a penchant for elderly widows and ends up becoming an unlikely companion for a very rich widow, Marjorie Nugent (Shirley MacLaine) and SPOILER ends up killing her.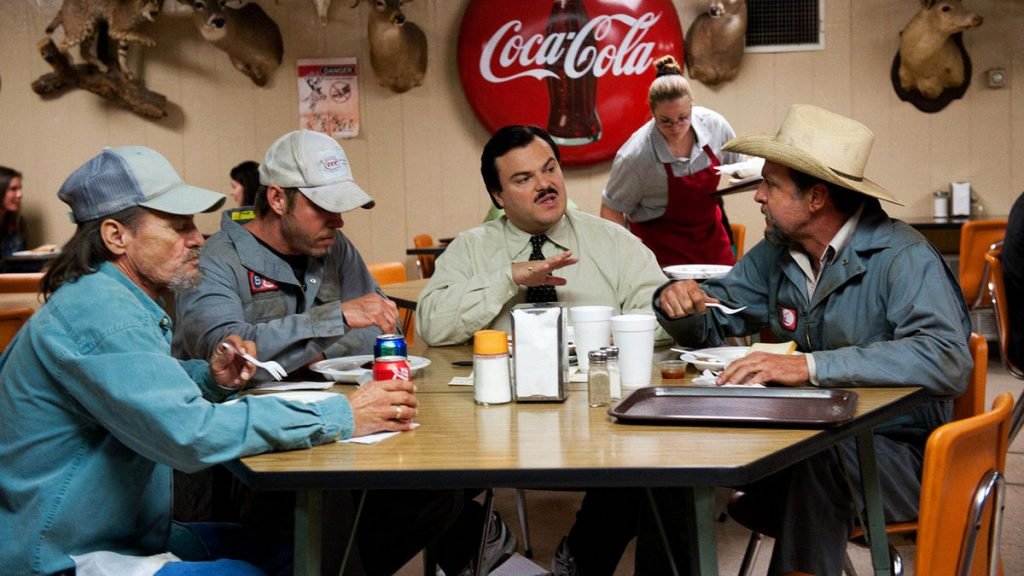 The film is a mix of straightforward filmmaking and mockumentary with talking heads from real life people from Carthage, Texas and sort of played straight and then sort of played for comedy by Black. The film was strongly received in American after its release but seems to have barely been seen or heard of by UK audiences - and there is good reason why. Its weird - given that it is a true story - about murder - the comedy feels weird and doesn't achieve what it presumably intends to do and because the comedy is so weird it doesn't work as dramatisation. One really for Jack Black completists only.
Scores
[supsystic-tables id='54'] Unsurprisingly Bernie doesn't score highly in any category, scoring 2.9 by Flixwatcher but more love was given from Twitter. Seen it? Send us your review @flixwatcherpod What do you guys think? Have you seen Bernie? What did you think? Please let us know in the comments below!
Episode #052 Crew Links
Thanks to the Episode #052 Crew of Chris Smith @ChrisDSmith27 and Will Roe- from Lords @HomeOfCricket. Find their website online here: https://www.lords.org Please make sure you give them some love
Flixwatcher Spotify Playlist
It has to be Putting on the Ritz, but there is no Gene Wilder version so we have added the Mel Torme Version!
More about Bernie
For more info on Bernie you can visit the Bernie IMDB page here or the Bernie Rotten Tomatoes page here.
Final Plug! Subscribe, Share and Review us on iTunes
If you enjoyed this episode of Flixwatcher Podcast you probably know other people who will like it too! Please share it with your friends and family, review us, and join us across ALL of the Social Media links below.