"It's Episode 48! We welcome back guests Dave and Jen from Getting Better Acquainted and The Family Tree to discuss The Babadook, Dave's choice.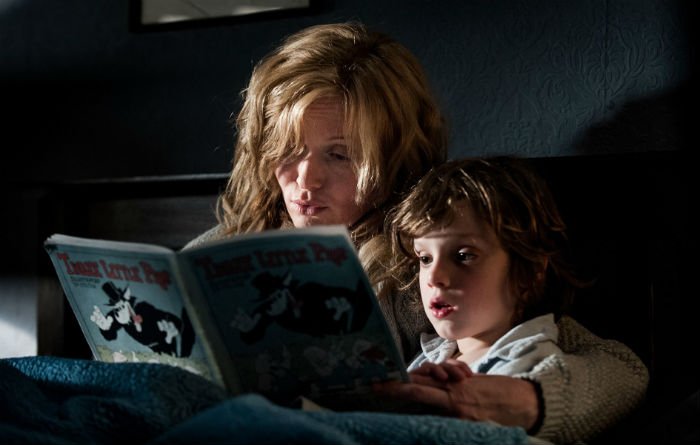 The Babadook is a 2014 Australian psychological horror mother and son film, directed by Jennifer Kent, and a firm favourite of Mark Kermode.
Part nightmarish fairytale, part exploration of grief, part creaky house horror The Babadook is a terrifying beautiful journey into madness making one of the most intriguing horror films of recent times.
What it lacks in gore and blood it makes up for in tension and fear, think Don't Look Now and The Shining, at times genuinely terrifying!
Scores
[supsystic-tables id='50']
Overall The Babadook scores 4.1 - pretty high and strongly recommended by Flixwatcher and Dave and Jen, rather surprising was that less love was shown from Twitter. Potentially a bit of a Marmite film.
What do you guys think? Have you seen The Babadook? What did you think? Please let us know in the comments below!
Episode #048 Crew Links
Thanks to the Episode #048 Crew of Dave and Jen from The Family Tree @familytreepod and Getting Better Acquainted @GBAPodcast
You can listen to Family Tree on iTunes and Getting Better Acquainted on iTunes Too.
Dave Pickering can be found on Twitter at @Goosefat101 and Jen Adamthwaite @jadamthwaite
Please make sure you give them some love
Flixwatcher Spotify Playlist
It has to be Putting on the Ritz, but there is no Gene Wilder version so we have added the Mel Torme Version!
More about The Babadook
For more info on Young Frankenstein, you can visit the The Babadook IMDB page here or the The Babadook Rotten Tomatoes page here.
Final Plug! Subscribe, Share and Review us on iTunes
If you enjoyed this episode of Flixwatcher Podcast you probably know other people who will like it too! Please share it with your friends and family, review us, and join us across ALL of the Social Media links below.